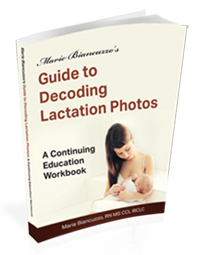 Marie Biancuzzo's Guide to Decoding Lactation Photos: A Continuing Education Workbook
Previously titled Marie Biancuzzo's Picture Perfect Guide to Decoding Photos
Did you know that almost half of the questions on the IBLCE Exam are based on images? These images often trip up exam candidates and can be difficult to prepare for. Marie has written a brand new workbook, designed to be used with the The Breastfeeding Atlas (6th Ed.).
Designed to use with The Breastfeeding Atlas (6th edition), this workbook will help you to learn the skills to decode what you see & take the best next step. Learn to distinguish between similar conditions; recall and apply knowledge of typical features; solve clinical problems & more. Perfect as you prepare for a lactation exam or improve your physical assessment skills.
Finally, an interactive workbook that will:
provide detailed context and clarification of terms as they relate to items on the IBLCE exam
recall and apply knowledge of typical features, and their implications for breastfeeding
fine-tune your visual assessment skills to accurately distinguish between clinical conditions you encounter
solve clinical problems by understanding their origin
If you have ever struggled to interpret photos, this is the prep tool for you. Each chapter gives written learning exercises to help you review, reinforce and expand your knowledge. (And helps you plan dates for doing the exercises! What a way to get yourself organized!)
Even if you've taken one of Marie's courses in the past—highly acclaimed for Marie's interactive teaching style—you'll find even more active learning methods that help you to see clues in photos that typify common and not-so-common conditions in breastfeeding mothers and infants.
Realizing that half or more of your IBLCE exam is dependent upon photo recognition, you'll finish this workbook being able to:

distinguish among breast/nipple conditions resulting from lactation-related conditions, congenital or acquired conditions, or pathology (infectious disease, autoimmune disease, cancer) and how they affect breastfeeding management
identify feeding-related normal and commonly-encountered abnormal physical findings of the infant/child and how they affect breastfeeding management.
recognize indicators of optimal and suboptimal milk production, ejection, and transfer, and how that impacts clinical recommendations.
determine how to problem-solve issues related to technological devices associated with breastfeeding and human milk.
relate physical indicators of growth and development to feeding management strategies.
If you've been tripping over words like craniosynostosis, hypoplasia, nevus, hemangioma, induration or peau d'orange, you'll be glad to find that these and other conditions are clearly illustrated in The Breastfeeding Atlas (6th edition), and by completing the paper-and-pencil learning exercises in the Workbook, you'll strengthen your ability to recognize these conditions.
"I have been so pleased with the interaction you at Breastfeeding Outlook have had with me! I received my score a few days ago and wanted to let you know that I got 91%. I credit your materials, in addition to Breastfeeding and Human Lactation, and The [Breastfeeding] Atlas for making this possible. Though I found all your material helpful, the Picture Perfect workbook [Guide to Decoding Lactation Photos] was tremendous. I feel that working through that alongside the Atlas really helped me extract so much more knowledge than I would have gotten just studying the Atlas alone. I began reaping the benefits even before the exam, as I worked with moms. Thank you all, again, for the amazing support and quality exam prep materials." ~Amy Hall, IBCLC, Harrisonville, MO
You must have the 6th Edition of The Breastfeeding Atlas to use this workbook. If you do not already have the Atlas, Click here.