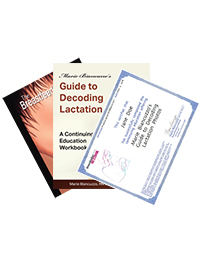 Marie's Biancuzzo's Guide to Decoding Lactation Photos Continuing Education Course
This course is unlike any course you have ever taken before.
Wish you could look at a clinical condition and distinguish this from that? Learn how with this very interactive course.
Even if you've taken one of Marie's live courses—highly acclaimed for her interactive teaching style—you'll find plenty of active learning methods in this course that you can complete in the comfort of your own home! You'll begin to see the typical clinical clues in common and not-so-common conditions in breastfeeding mothers and infants.
Earn credits and learn to better manage lactation problems by going through multiple paper-and-pencil exercises, using the required books (included) for the course. Master the objectives and ace the quiz questions at the end of each chapter!
"...I got 91% [on the IBLCE Exam]. I credit your materials...and The [Breastfeeding] Atlas for making this possible. Though I found all your material helpful, the Picture Perfect workbook [Guide to Decoding Lactation Photos] was tremendous. I feel that working through that alongside the Atlas really helped me extract so much more knowledge than I would have gotten just studying the Atlas alone. I began reaping the benefits even before the exam, as I worked with moms. Thank you all, again, for the amazing support and quality exam prep materials." ~Amy Hall, IBCLC, Harrisonville, MO
Add the Full Course to Your Shopping Cart
Faculty Target Audience/Eligibility Goals & Objectives Content Highlights Methods Evaluation Credits & Expiration Pricing
Individuals who want to earn continuing education credits, improve their clinical observation skills or prepare for the IBLCE Exam .
The goal of this course is to, given a clinical photo, recognize typical characteristics of normal, variations of normal, and pathological conditions that impact breastfeeding success, and strategies for their clinical management. .
The objectives of this course are:
Identify feeding-related normal and commonly-encountered abnormal physical findings of the infant/child and how they affect breastfeeding management.
Recognize indicators of optimal and suboptimal milk production, ejection, and transfer, and how that impacts clinical recommendations.
Distinguish among breast/nipple conditions resulting from lactation-related conditions, congenital or acquired conditions, or pathology (infectious disease, autoimmune disease, cancer) and how they affect breastfeeding management.
Determine how to use and problem-solve issues related to technological devices associated with breastfeeding and human milk.
Recognize classic signs of congenitally-acquired structural infant conditions that affect successful milk transfer and strategies that will improve intake and optimal growth.
This workbook is used in conjuction with The Breastfeeding Atlas (6th edition), to help you learn to identify normal and abnormal conditions. Learning activities and quizzes in the workbook are used to evaluate and solidify what you have learned. A final exam is taken online in order to earn credits for the course (optional). The course includes:
Workbook, with 18 chapters
Terminology for each chapter
Multiple learning activities for each chapter
Quick quizzes for each chapter
Online post-test questions to earn credits (optional)
Photos and text from The Breastfeeding Atlas (6th edition)
Paper-and-pencil exercises
Independent reading
Use of case scenarios
Quizzes
More
The Breastfeeding Atlas (6th edition) is required to use this Workbook. The full course purchase includes the Breastfeeding Atlas (6th ed.), the Decoding Lactation Photos Workbook, and the online materials to earn credits.
Post-Test (optional - if you chose to earn credits)
Marie Biancuzzo, RN MS CCL IBCLC
Education Director
Breastfeeding Outlook
This program for 20.4 L-CERPs has been approved by Breastfeeding Outlook (Provider # CLT108-22) which is accredited as a long-term provider by the International Board of Lactation Consultant Examiners.
This program provides 20.4 instructional hours in topics on the IBLCE Detailed Content Outline, and has been approved by Breastfeeding Outlook (Provider # CLT108-22) which is accredited as a long-term provider by the International Board of Lactation Consultant Examiners.
Provider approved by the California Board of Registered Nursing, Provider Number CEP 15628, for 20.4 contact hours, accepted in all states in the United States.
The course expires two years from the date of purchase. You must complete the course by the expiration date to earn credits. Program expiration dates can be extended at the discretion of Breastfeeding Outlook.
Full Course: Regular Price: $298 plus shipping

Includes:
The Breastfeeding Atlas (6th edition)
Marie's Guide to Decoding Lactation Photos
Online Post-Test and Credits (20.4 L-CERPs and 20.4 contact hours)
Add the Full Course to Your Shopping Cart
A la carte pricing: