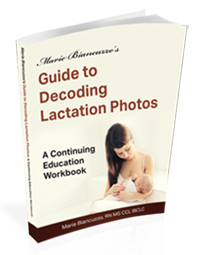 Marie Biancuzzo's Guide to Decoding Lactation Photos: A Continuing Education Workbook, Second Edition
by Marie Biancuzzo, RN MS CCL IBCLC

(You will be redirected to our sister site, MarieBiancuzzo.com.)

Previously titled Marie Biancuzzo's Picture Perfect Guide to Decoding Photos
Designed to use with The Breastfeeding Atlas (7th edition), this workbook will help you to learn the skills to decode what you see & take the best next step. Learn to distinguish between similar conditions; recall and apply knowledge of typical features; solve clinical problems & more. Perfect as you prepare for a lactation exam or improve your physical assessment skills.

Continuing credits are available for this workbook (and the previously titled versions). Click here for more information on earning credits for this workbook.

Finally, an interactive workbook that will:

provide detailed context and clarification of terms as they relate to items on the IBLCE exam.
recall and apply knowledge of typical features, and their implications for breastfeeding.
fine-tune your visual assessment skills to accurately distinguish between clinical conditions you encounter.
solve clinical problems by understanding their origin.
If you have ever struggled to interpret photos, this is the prep tool for you. Each chapter gives written learning exercises to help you review, reinforce and expand your knowledge. (And helps you plan dates for doing the exercises! What a way to get yourself organized!)

See your confidence skyrocket as you decode the visual information, and recognize the conditions that may appear on the exam. After you complete the learning exercises in each chapter, do the Quick Quiz in each chapter to help you see if you know your stuff! (About 90 questions in total.)

This book does NOT come with pictures. You must have the 7th edition of The Breastfeeding Atlas to use this book. If you do not already have the Atlas, click here to purchase the Atlas separately.