Breastfeeding the Newborn: Clinical Strategies for Nurses, 2nd ed.
by Marie Biancuzzo RN MS CCL IBCLC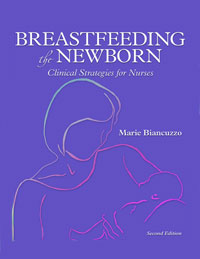 Be sure you have this essential resource you'll use every day!
Grounded in solid research, this book supports breastfeeding promotion during pregnancy and offers practical solutions and insights to the most common breastfeeding concerns.
Features of this book include:

a logically-organized and easy-to-read format
photographs and line drawings depicting relevant anatomy, physical assessment skills, positioning techniques, and equipment
expert insights and practical solutions to the most common breastfeeding concerns
a special chapter on breastfeeding the compromised infant with guidelines for infants who are preterm, born with cardiac problems, are neurologically-compromised, and/or have cranio-facial defects
Priorities for Care boxes that summarize the most salient breastfeeding recommendations in bullet-point format
Research Highlights that summarize and critique selected studies and show how they apply to clinical practice
Clinical Scenarios that offer real-life case studies to promote critical thinking and generate possible management strategies
comprehensive and useful appendices that provide breastfeeding education, promotion and support resources for both professionals and their clients
Breastfeeding the Newborn is a MUST if you work with mothers and newborns!

Get Yours Today